GOTT Receptionists
Edit
Receptionists at GOTT work behind a desk. Their job is to navigate newcomers and to help as much as possible. There is also a routine, which his mainly done by ES members, who work as Receptionists as well.
GTO Receptionists
Edit
Receptionists working for the GTO also work from behind a desk. However, they can also accompany the guest, so that they wouldn't get lost, and come back to the desk again.
GOTT Receptionists
Edit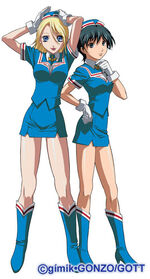 Main colour:

The GOTT Receptionist uniform consists of a blue top with short sleeves, a short blue skirt, blue high-heeled boots and a blue hat, which is usually worn on the right side of the head. They also wear white gloves, which end around the wrist.
The uniform is decorated with two white lines and a red line in between them. This is present at the top of the boots, around the end of the sleeves, around the collar and at the bottom of the hat.
The symbol of the GOTT can be found on the hat and at the collar of the GOTT Receptionist uniform.
However, as there are no male receptionists, there is only a female uniform.
GTO Receptionists
Edit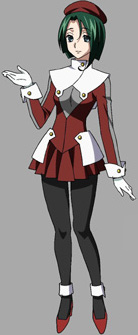 Main colour:

The GTO Receptionist uniform consits of a brown dress with long sleeves, black tights, brown high-heeled shoes and a brown hat. The sleeves end just above the wrist. They also wear white gloves.
The uniform is decorated with a white collar on top of the shoulders and around the neck, around the end or the sleeves and around the waist. There is also a white collar above the high-heeled shoes and a small white collar on both sides of the hat. All of these are kept in place by yellow buttons.
There is also a grey area on the chest and on the long-sleeves of the dress.
The GTO Receptionists don't wear the symbol of the GTO; rather their white collars around the waist and on top of their shoulders make them recogniseable.
There are only females who appeared in Kiddy Girl-AND as Receptionists, and so there is no male version of this uniform.
E-Shift happens when an ES member, who works as a Receptionist as well, receives a mission, or the director wants to see them. This means that while they are gone, two Receptionists, who are not ES members take their place.
Ad blocker interference detected!
Wikia is a free-to-use site that makes money from advertising. We have a modified experience for viewers using ad blockers

Wikia is not accessible if you've made further modifications. Remove the custom ad blocker rule(s) and the page will load as expected.